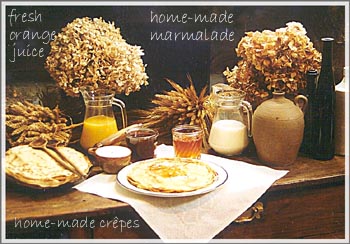 White bread (baguette), croissants or crêpes, and fruits, homemade marmalade should give you the strength for a "hard" touring day.
On request we also provide, if available, yoghurt, muesli, cornflakes, cheese, bacon and eggs.

Often available now our delicious, home made bread made from only flour, water and salt - the nature does the rest, producing a leaven which gives a slightly sourish taste to the bread. No yeast at all is used. Rare nowadays, because proceeding is difficult and time consuming.